About Me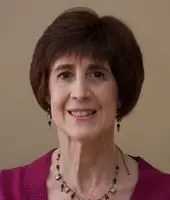 Judi is a Licensed Clinical Social Worker specializing in the treatment of eating disorders, depression, anxiety and trauma. She has over 30 years of experience as a psychotherapist and has advanced training psychoanalytic psychotherapy.

Prior to opening her private practice in New Jersey in 1989, Judi had a practice in New York City from 1984-1989.
She worked as a School Social Worker from 1982-1989 in New York City. She counseled children with diverse special education needs and worked with their parents as well as school personnel.

Education
Judi graduated Brandeis University in 1980 and Columbia University School of Social Work in 1982.
She completed a certificate program in Psychoanalysis and Psychotherapy at the Training Institute for Mental Health, NYC, in 1988.
License

Judi is a Licensed Clinical Social Worker in New Jersey and New York.
She is certified by the New Jersey Board of Social Work to perform clinical supervision.
Professional Activities and Memberships

Judi is an active member of :

National Association of Social Workers: www.naswdc.org , www.naswnj.org
New Jersey Society for Clinical Social Workers: www.njscsw.org
Center for Psychoanalysis and Psychotherapy of New Jersey: www.cppnj.org.
American Clinical Social Work Association : www.acswa.org/
International Society for the Study of Trauma and Dissociation: http://www.isst-d.org

Judi is an active faculty member of the Center for Psychotherapy and Psychoanalysis on New Jersey. She is an approved training analyst and supervisor. Judi has completed a one year training program on the Psychodynamic Treatment of Eating Disorders and co-leads the CPPNJ study group for the treatment of eating disorders. Judi was an instructor for the CPPNJ Supervision Training Program.